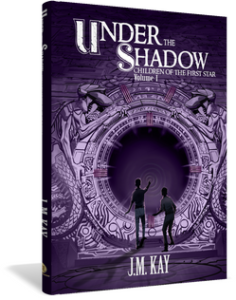 by J. M. Kay
(2014) Kindle Edition & Paperback
Available at: www.amazon.com
Click here for the press kit.
In the small mid-west town of Ashton, two boys are accidentally abducted by a universal archivist from a distant planet. The boys must travel with the archivist to a planet filled with secrets, all the while hoping it is in the interest of the archivist's superiors to send them back to earth. In Ashton, the apparent kidnapping of the two missing teens spark old hatreds and suspicions in a town that once before suffered a very similar tragedy. Under the Shadow is first in a three-part series.
Reviews
"It is of paramount importance that young people begin to think philosophically at an early age. Under the Shadow assists young adults in doing just that: exploring who they are as individuals and as part of something greater than themselves."
~ Ryan Scherbart, Ph.D., Humanities & Religious Studies Instructor, Chabot College
"An empathetic sci-fi adventure for middle-grade readers that impresses with its psychological depth…"
~ Kirkus Reviews
"This book reminded me so much of the science fiction classics – Fahrenheit 451, Ender's Game, Star Trek, and basically anything written by Isaac Asimov…It gives the reader a 360˚ view of a complex plot that takes us on an unexpected adventure out of our comfort zone and further into ourselves, asking us to test our notions of what we think life should be and what value we place on lives other than our own."
~ Beth Holian, Tween Book Blog
GoodReads Reviews
Amazon Reviews
Certain content that appears on this site comes from Amazon Services LLC. This content is provided 'as is' and is subject to change or removal at any time.