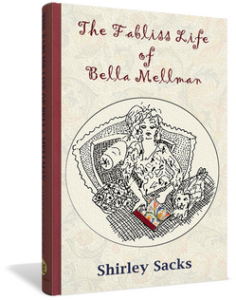 by Shirley Sacks
(2015) Kindle Edition & Paperback
Available at: www.amazon.com
Click here for the press kit.
Bella Mellman, a transplanted South African artist, writer and savvy woman of the world, lives a 'fabliss' life (according to her 8-year-old granddaughter) in the flats of Beverly Hills. Which is why it is so annoying when her friends, and even strangers, keep insisting her life is incomplete without a man. A long-time divorcee nearing the seventieth year of a very full life, Bella is constantly asked the impertinent question of "Why didn't she have a partner, since she looked quite good (and here's the most hated phrase) for a woman her age."
The only thing to do, Bella realizes, is to write a book that explains once and for all, her satisfaction with being older and single.
In the pages of her Florentine journal, Bella gives voice to her out-spoken, witty and at times, outrageously honest opinions on men, "mature" dating habits, the odd complexities of love and marriage, along with a rollicking and humorous social commentary on life in sunny California. In the midst of charity events, art galleries, disappointing dates, and ex-husband drama, and supported by her quirky circle of friends, Bella surprises everyone when her book evolves into a screenplay set in her native South Africa. And she surprises herself when she discovers her true desire.
Reviews
"Shirley Sacks has created a fresh, wise and saucy voice you'll love — Bella Mellman. You'll want Bella to live next door, to come for dinner, to meet everyone you love and to write about everyone you don't like."
~ Jill Schary Robinson, best-selling author of Bed/Time/Story, Perdido, and With a Cast of Thousands
"If you want to know what women really want, don't read Freud,
read Shirley Sacks.
And if you want to know what really goes on in Beverly Hills, skip the Kardashians and
read Shirley Sacks.
Touching , funny and oh-so true. Easy to read but hard to forget,
this remarkable first novel belongs on the night stand of every Baby Boomer."
~ William Stadiem, author of Jet Set and Mr. S
"The Fabliss Life of Bella Mellman is a terrific never-before-told tale of a vivacious and sophisticated South African woman living in Los Angeles on the brink of her 70's. Still full of the wonders of life, Bella's journey is relatable at any age, and is nothing short of inspiring."
~ Christina McDowell, author of After Perfect: A Daughter's Memoir
GoodReads Reviews
Amazon Reviews