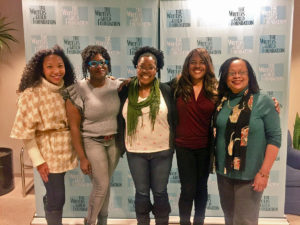 Panelists (l-r): Monica Macer (Queen Sugar, OWN), Shernold Edwards (Hand of God, Amazon), Dawn Kamoche (Sharp Objects, HBO), Dee Harris-Lawrence (Star, FOX), Valerie Woods (Soul Food, Showtime)
The Writers Guild Foundation event, co-sponsored by Stephens College MFA in Television and Screenwriting on January 13, 2017, was a great success. The panel, moderated by writer and BooksEndependent publisher, Valerie C. Woods, engaged the participants with their wisdom, humor and real-world advice on the evening's topic – "Writing Outside the Color Lines: Women Writers of Color or Storytelling and Perspective". A lively Q&A following the discussion extended the evening past its scheduled ending time.
Thanks to Chris Kartje and Enid Portuguez at the WGF, and Ken LaZebnik and Khanisha Foster of Stephens College for a wonderful evening!